#073
7073 - 2009 CCXR "Special One"

Turquoise / Turquoise

Left Hand Drive

VIN YT9XC81B99A007073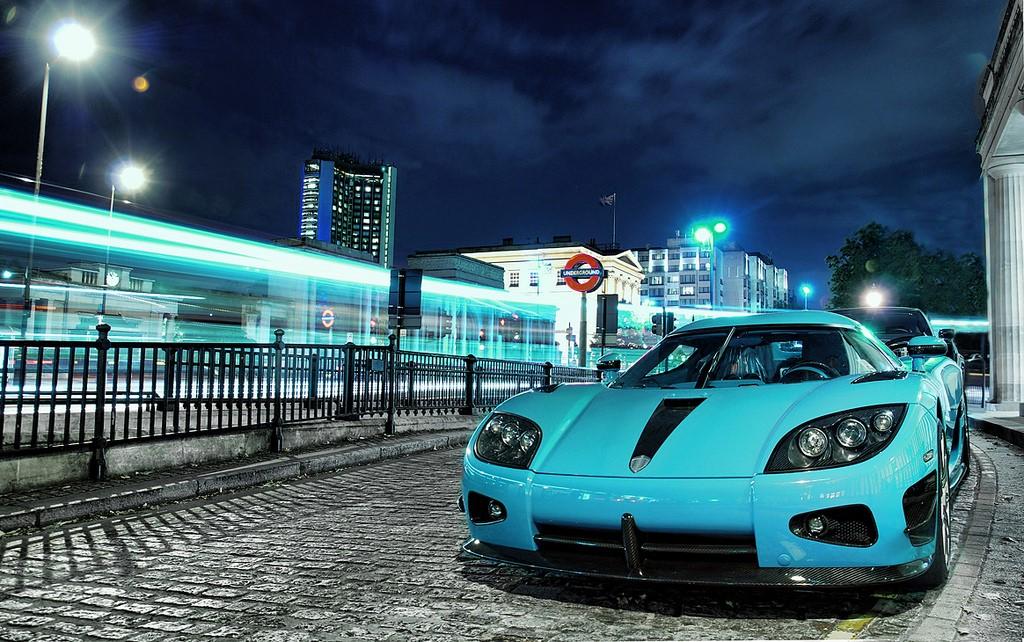 (https://www.flickr.com/photos/cars_by_night/4828489038/)
General History
Koenigsegg CCXR #073 was built for Sheikh "ANA" Al-Thani of the royal family of Qatar, who requested extensive custom options and selected the colours and fittings. Consequently, both #073's exterior and interior are coloured in his supercar fleet's signature shade of turquoise blue, highlighted with bare carbon fibre.
#073 is known to have been under construction in October 2009 and was spotted in its finished form in January 2010 in Qatar. The following July it was brought to London and was a major attraction of 2010's annual summer "supercar season" in the city. Along with another of Al-Thani's cars, a Lamborghini Murciélago LP670-4 SuperVeloce, #073 made headlines during this period when both vehicles were clamped by overzealous traffic wardens outside the famous Harrods department store in Knightsbridge. The Harrods business group itself, incidentally, had been bought only a couple of months earlier by the Al-Thani family.
In August 2010 #073 was registered in the UK, replacing the Qatari registration it had previously carried, and was still running on UK licence plates when it visited Paris in July 2011. It was then put up for sale in November 2011 at Show Motors in Dubai at a price of €825,000, listed as having covered 3000km. It was still for sale in March 2012, spotted in a listing on German car sales site mobile.de.
At the beginning of September 2013 it was again for sale through Man Exotics in Dubai on whose site it is still listed to date, priced at "best offer". Interestingly, Man Exotics' advertisement claims that the car has only covered 200km in total. This is presumably a typographical error, as the car is also currently listed on the website of Al Ain Class Motors in Dubai with the odometer reading of 3400km - which seems to be accurate and indicates that it has seen only very minimal usage since its first sale appearance in 2011. The car was physically located at Show Motors in Dubai in March 2014 and they claimed to have sold it, apparently to Al Ain.
Exterior
#073 is officially designated a standard CCXR but displays a customised blend of styling cues drawn from across the CCXR lineage: front splitter with a cross-barred grille above it similar to that on #069, body vents above the front and rear wheels as per the CCXR Special Edition and Trevita models, and side winglets. These details, the rear grille frame, rear diffusers and bonnet insert are all bare carbon, set against the painted bodywork in Al-Thani turquoise blue. The model call-out panel bears the "CCXR" designation, with the "CCX" letters in the same blue as the bodywork and the "R" in red, and a silver Koenigsegg shield. The Koenigsegg shield on the nose of the car is also silver instead of the standard CCXR full colour version. In front of the rear wheels the car's name "Special One" is written in black italic font along the bottom of the side panels, just above the carbon sideskirts. Aluminium exhaust surround and nine-spoke Trevita-style painted alloy wheels. Double F1 aero wing in bare carbon.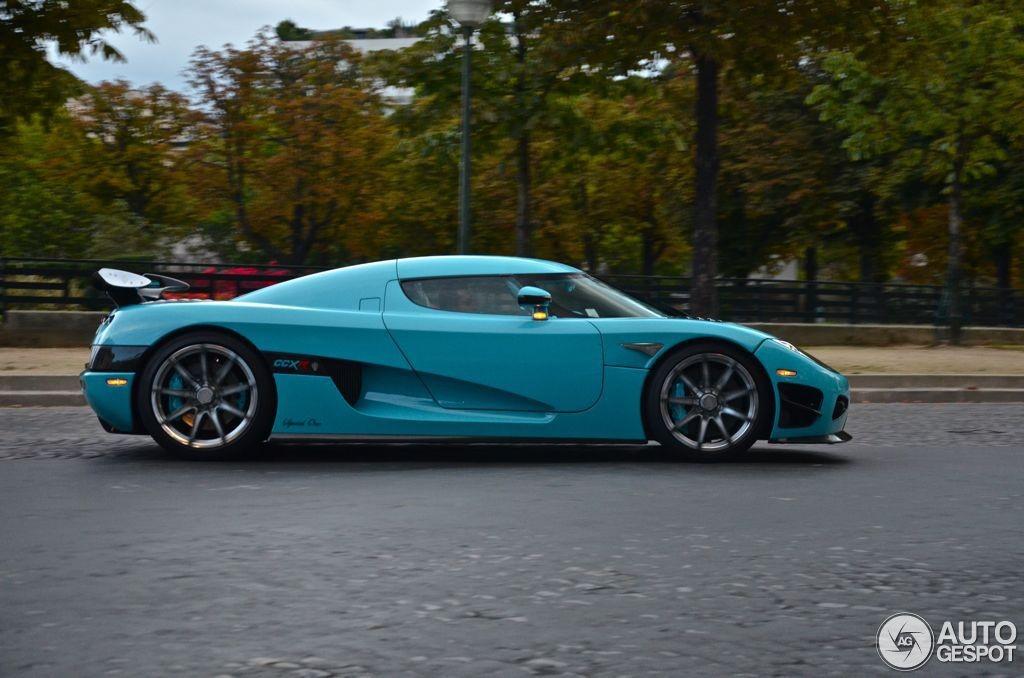 (http://www.autogespot.com/koenigsegg-ccxr/2013/02/12)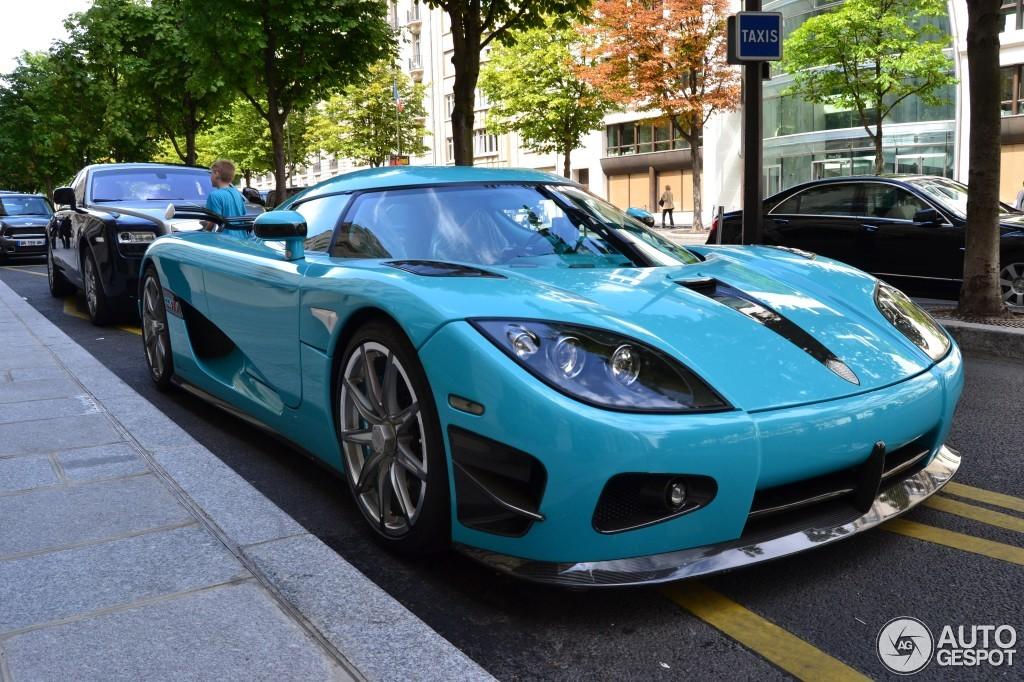 (http://www.autogespot.com/koenigsegg-ccxr/2013/03/21)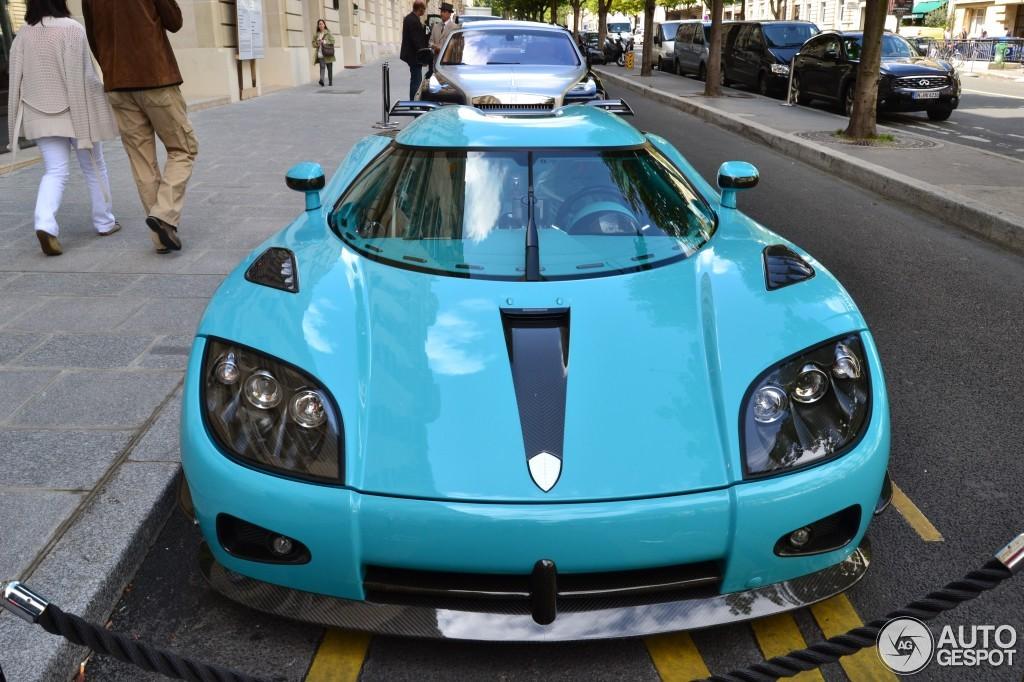 (http://www.autogespot.com/koenigsegg-ccxr/2013/03/21)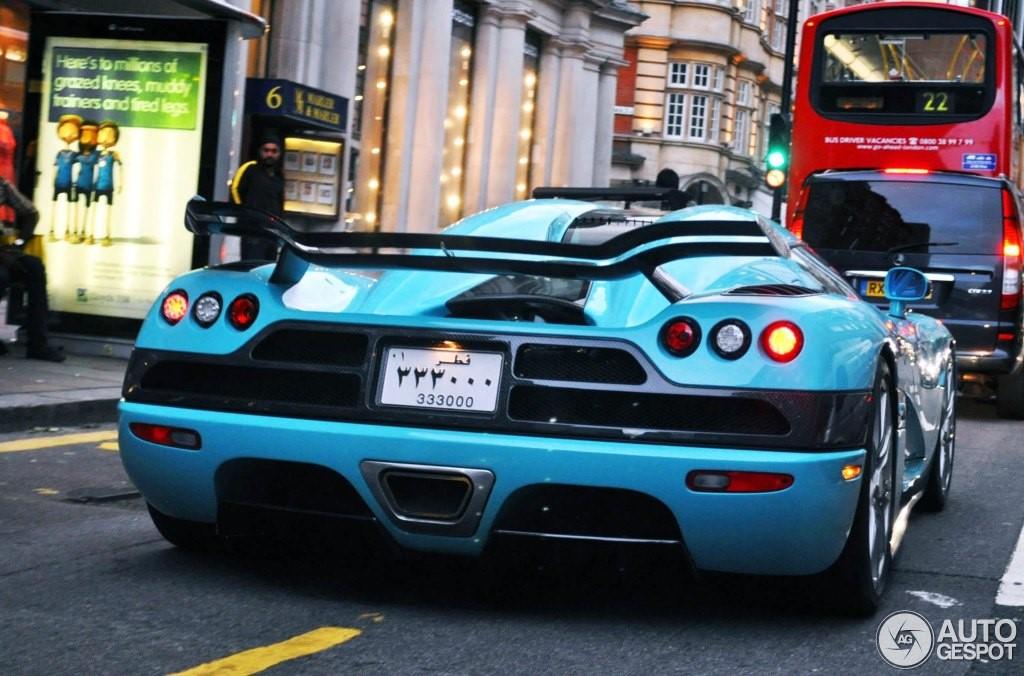 (http://www.autogespot.com/koenigsegg-ccxr/2012/09/23)
Interior
LHD. Al-Thani turquoise blue leather throughout with black leather/carbon fibre steering wheel. All exposed interior surfaces (inside footwells, air vents, edges around the roof, etc) are bare carbon fibre. Black diamond stitching on the headliner, seats and the rear bulkhead panel. Full colour Koenigsegg crests on seat headrests. Control dials, info screen frame and instrumentation surrounds are silver metal, probably brushed aluminium. The car's name "Special One" is embroidered in black italic font on the passenger side dashboard. An engraved plate between the seats carries the inscription "Manufactured for ANA Al-Thani - Special One" with the Koenigsegg shield and Christian von Koenigsegg's signature.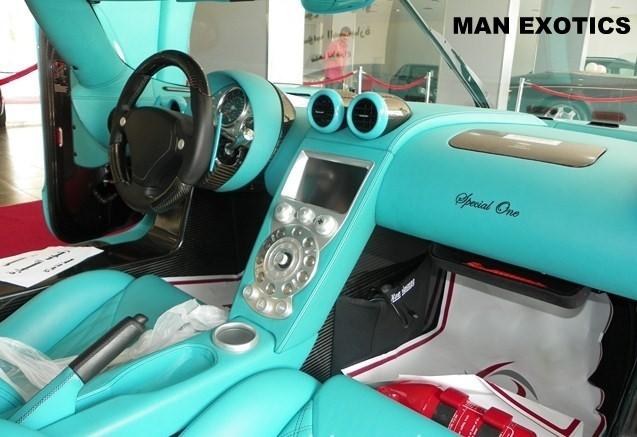 (http://www.man-exotics.com/cars.php?id=144#.VKKbcsgBc)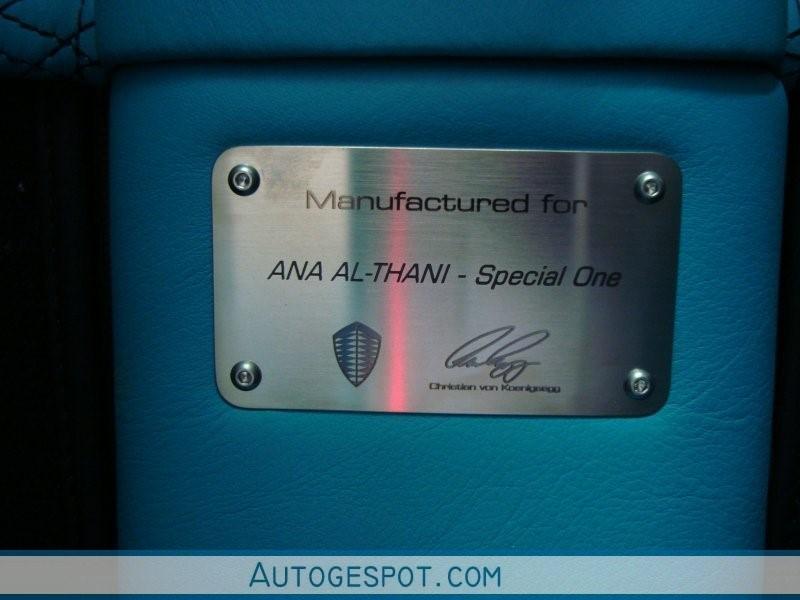 (http://www.autogespot.com/koenigsegg-ccxr/2010/01/12)
Engine
Koenigsegg CCXR aluminium-block V8 4.7 litre with four valves per cylinder and twin superchargers producing 1018bhp at 7200 rpm, mated to an F1-style six-speed paddle-shift gearbox. Flexfuel capacity, petrol or E85. (Data taken from current Al Ain Class Motors sales listing).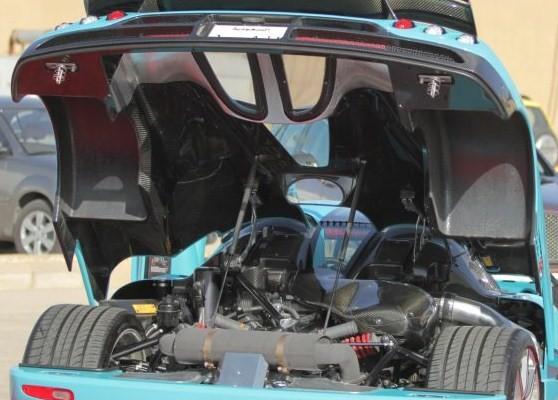 (https://www.facebook.com/photo.php?fbid=352395331545364)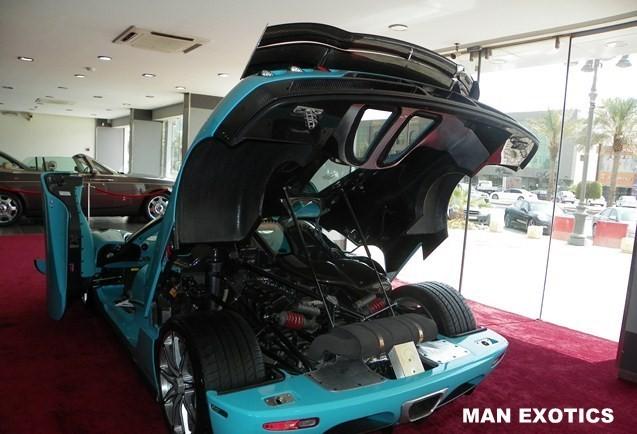 (http://www.man-exotics.com/cars.php?id=144#.VKKbcsgBc)
Trivia
CCX #037, resident in Japan, was given a turquoise wrap in 2013 that, at a glance, makes it look similar to #073. The two cars can be told apart at a closer look by #037's "phone dial" style wheels, different rear wing, black interior, and of course CCX instead of CCXR badging.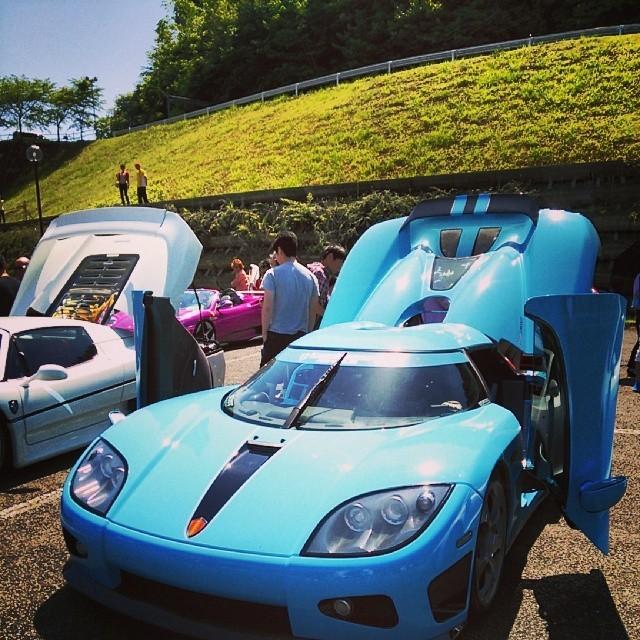 #037 in its turquoise wrap – note the different spoiler and the coloured nose badge further distinguishing it from #073.
A scale model of #073, based on an AutoArt 1:18 CCX, has been custom-made by a fan. While it isn't an exact replica of the real car due to being based on a stock CCX model, it still attracted well-deserved admiration from other Koenigsegg lovers!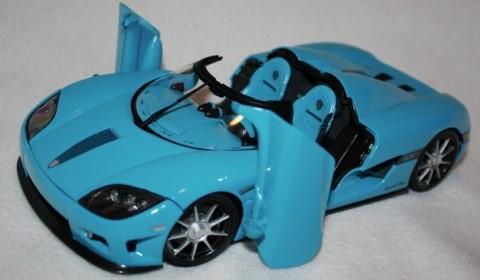 (http://www.gtspirit.com/2011/10/16/custom-made-al-thani-koenigsegg-ccxr-in-scale-118/)
Links
On-board video shot in London in July 2010: https://www.youtube.com/watch?v=PTXHaoHtAqc
Clamped outside Harrods in July 2010: http://www.worldcarfans.com/110072727596/koenigsegg-ccxr-and-lamborghini-lp670-4-sv-get-clamped
On the streets of Paris in July 2011: http://www.celsydney.com/wordpress/2011/12/koenigsegg-ccxr-the-special-one/
For sale in Dubai in November 2011: http://www.gtspirit.com/2011/11/23/for-sale-turquoise-al-thani-koenigsegg-ccxr-special-edition/
For sale in Dubai in September 2013: http://www.gtspirit.com/2013/09/01/for-sale-turquoise-koenigsegg-ccxr-special-one/
"Sold" at Show Motors on March 1, 2014: https://www.facebook.com/showmotors.dubai/posts/829427787091305
...but apparently still in-house on March 30, 2014: https://www.facebook.com/657317074339009/photos/a.657438490993534.1073741829.657317074339009/658868710850512/
Still for sale in April 2014: http://www.gtspirit.com/2014/04/21/unique-koenigsegg-ccxr-special-one-still-for-sale-in-dubai/
Man Exotics ad (current): http://www.man-exotics.com/cars.php?id=144#.VKKbcsgBc
Al Ain Class Motors ad (current): http://www.alainclass.com/inventory/cars/4074/koenigsegg/ccxr-special-one
Miniature version: https://www.youtube.com/watch?&v=3djty2PWDng
Data collected by Kit, J_C, Matt and Stephan
Page written by Kit